Your family is everything.
We understand.
In 1905, three immigrant brothers founded the Harris Company in Southern California. For nearly a century, their flagship department store in San Bernardino stood for more than just an extraordinary shopping experience. The store was a bedrock of the community, known and loved for its deep commitment to its clientele and for "looking after people." Service was embedded in its business model, and the company became synonymous with integrity, quality, value, and personalized service.
"The Harris Approach" was a creed and a philosophy by which every family member and every employee lived. This document —and everything it stands for —became a touchstone that was passed down through subsequent generations.
It now resides with us, the fourth and fifth generations of the family. It is central to our own business, Harris Private Wealth, which was founded in 1985 with the express purpose of "looking after" multigenerational families by providing precisely this level of service.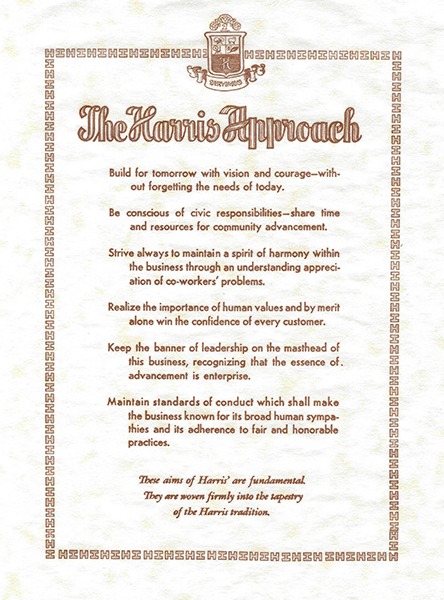 Service is in our DNA
Our commitment to the Harris heritage is symbolized by Harris Private Wealth's logo. It is an updated version of the original Harris family coat of arms, which was brought to America from West Prussia by the Herschkowitz family in the 1800s.
The leaping deer endures from the first coat of arms. "Hersch," the German word for deer, was the root of the original family surname. The family motto, "Servimus," is Latin for "we serve."
Generations of our family have lived by these words. At Harris Private Wealth, we proudly honor and continue this long and deep tradition of providing true service and value to our clients. Your family is everything. We understand.